Design a Covid-19 safe layout for the workplace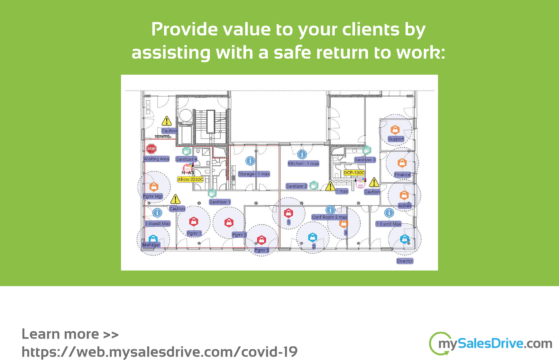 Design a Covid-19 safe layout for the workplace – with mySalesDrive
In connection with the current corona virus pandemic, Perform IT GmbH has developed the "Covid-19" module an additional feature to their mySalesDrive solution – a workplace optimization, TCO and proposal generator tool. This module allows users to measure areas in a floor plan, redistribute work areas, redefine walking routes, place important icons for waiting areas, disinfection dispensers and much more. The tool will allow users to digitally design theCovid-19 safe workplace.
This tool can gain access to customers or prospects to improve current relations by assisting with a vital element during these challenging times. Analysis of current workplace operations, hardware, and software will allow growth and sales opportunity to ensure staff safety within the working environment.
Armin Alt, Managing Director of perform IT GmbH: "Our room plan itself is not intended for this purpose. However, in the past few days and weeks we have realized that every company is desperately looking for help to redesign workplaces in a safe and employee-friendly manner. Those who are responsible need competent advice, ideally with practical tools that save time. So we decided overnight to expand our existing software tool. Perhaps we can make a small contribution to returning to our workplaces step by step, although they will be redesigned."
Phil Madders, Managing Director of PAE Business – European Distributor of mySalesDrive: "We are very pleased and proud to be able to help get businesses back to work in this difficult time. I am sure our mySalesdrive customers will be able to show how valuable they are to their customers and make a real difference in facilitating the transition between the lockdown and a new socially distanced office space."
Current users of the mySalesDrive solution can offer their end-customers access to the "Covid-19" module to assist with integrating their staff back into the workplace, to create a safe environment for individuals to work.
Please visit to find out more – https://web.mysalesdrive.com/covid-19/