mySalesDrive wins "Solution of the Year 2020"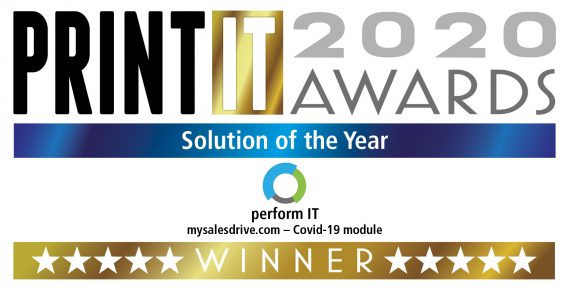 PAE Business, the European Distributor for Perform IT is proud to announce mySalesDrive has received an award for its COVID-19 module.
mySalesDrive one of the world's leading solutions for the analysis and optimisation of printer and IT infrastructures has been awarded 'Solution of the Year' for its Covid-19 module. The module assists with the redesign of a workplace environment, ensuring businesses comply with Government guidelines.
"We are very pleased to have received this award. Already early in the pandemic, we recognised that our users needed a tool to help their clients create a Covid-19 compliant workplace. So, we added the Covid-19 module to the already extensive features of our floor plan module. It enables consultants to plan workplaces strategically and with sufficient spacing, easily and conveniently without having to tediously measure everything on site with a tape measure," said Armin Alt, Managing Director of perform IT GmbH.
"This a great award to win and recognises the benefits mySalesDrive can bring to our partners in helping their customers plan for a return to the office in a safe and considered manner. There is no charge for the module. It was added to the current solution to help make the office a safer space and add real value to the business relationships our mySalesDrive dealer community have with their customers. Congratulations to the Perform IT team, we are very proud to partner with you." Phil Madders, Managing Director of PAE Business
mySalesDrive.com is continuously being developed to respond to the increasing changes in the printer industry. It is no longer sufficient to offer customers a product that is limited to the analysis and optimisation of printer landscapes. In the meantime, IT infrastructures, workflows and software products can also be included with the corresponding services.
If you would like to find out more about the award-winning solution, please contact PAE; info@paebusiness.com, www.paebusiness.com or call +44 (0) 1483 726206
About PAE Business:
PAE Business was founded in 2000 and is a leading solutions and services provider in the MPS (Managed Print Services) / MCS (Managed Content Services) sector. PAE Business works throughout the EMEA region offering award-winning applications and services to its clients to give their businesses a competitive advantage.