PAE Business adapts to rapidly changing market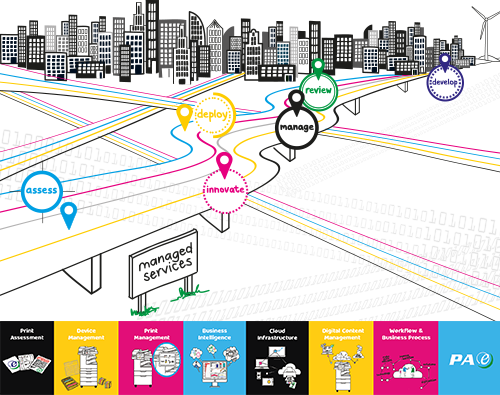 During these difficult few years and especially in 2021, PAE Business realised the need for change within our lives professionally and personally. We are fortunate within the print industry to have such a durable and rich marketplace that continues to adjust to the ever more fluid changes in partner and customer needs. This inherently comes with its own challenges for us all. PAE Business needed to be more versatile and offer broader services and products to assist our partners to meet their objectives as sustainably as possible. The days are rapidly moving behind us where 'traditional' cost per page can be solely relied upon.  In our converging markets of IT Services, Print and a variety of Cloud Platforms our partners and customers have become more agile. After taking feedback from our customers in 2020 and 2021, we identified opportunities, that would create the ability for our channel partners to compete for the greater share of their client needs.
As a result, PAE has created a new go to market strategy that will ensure partners will have the correct toolset to increase sales, promote themselves better, reduce costs and protect their profitability. We will deliver this via 2 new channels:
Offering Cloud based – EveryonePrint's OEM agnostic Cloud Print Management & Upland's solutions enabling Web Forms, Business Workflow, and Content management via the Cloud.
Offering services for our partners from our industry renowned device management solutions, onsite print management, portal-based marketing tools and adaptable auditing solutions, TCO calculator, business analytics and business intelligence dashboards.
Both Channels are supported by a comprehensive professional service offering to ensure timely delivery on the project for the client even if our channel partner does not have all the necessary skills in house.
The industry has had to make huge adjustments in scope and ability to be able to fulfil new customer requirements which are continually evolving. At PAE Business we have the experience, ability, and knowhow to help our partners expand their portfolios into, what will be for some uncharted territory, for them and their clients. Working in parallel with the partner to help them develop and upskill as they evolve their own organisations capability.
Having already enrolled 15 partners in 2021 with great results throughout the year, we enter 2022 with high hopes of not only increasing this presence, but also expanding further our channel and service products to empower partners to do so much more.
We are no longer Print Audit Europe.
We are PAE Business.
Andrew Todd – Head of Channel Development