PAE Business Launches Next Generation Device Management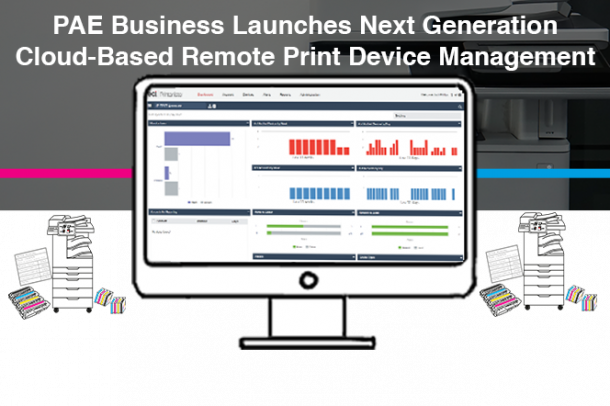 PAE Business – market leading provider of Managed Print and Managed Content Services are excited to announce the launch of – Printanista Hub. Printanista Hub combines three of the market leading device management platforms – Print Audit, FMAudit & PrintFleet into the next generation of global Print Device Management.
Printanista Hub is a powerful cloud-based service tool designed to simplify and streamline meter collection and billing, supplies and service delivery and enable an exceptional customer experience regardless of your customer's print environment.
Remote Device Link – Access to the internal web pages of most major manufacturer print devices to enable troubleshooting and technical support remotely. The features include log retrievals, firmware updates, and configuration of user and device settings.
Data Collection – Data Collection Agent (DCA) within Printanista collects critical meter, performance and supply-level data from multi-function print devices. The cross-platform capability for Windows, Mac, Raspberry Pi & Linux, independent scan frequencies, model-definition files and constant connection gives users the flexibility to manage their customer environments in the way that works best for them and their businesses.
Alternate Print Devices – Alerts and reports can be generated from label, receipt and wristband printers manufactured by Zebra. Being able to action the data gathered from these devices empowers dealers to add more devices and customers to their MPS contracts.
Printanista takes device management to a new level. Taking the experience earned by managing more than 20,000,000 devices globally ECI have built a brilliant product to maintain our position as Market Leaders in cloud-based device management. By adding Remote Device Link so the support team can remote to the device web page without leaving the portal, or having to engage their customer at any level adds a whole new dimension – further reducing costs and improving the service offering that can be delivered. It is a game changer. Phil Madders, Managing Director – PAE Business
For more information on Printanista Hub, please visit: https://paebusiness.com/products/printanista/ or if your business is looking to introduce a device management platform, please contact the PAE Business Product Team on; sales@paebusiness.com – +44 (0) 1483 726 206
About PAE Business: PAE Business was founded in 2000 and is a leading solutions and services provider in the MPS (Managed Print Services) / MCS (Managed Content Services) sector. PAE Business works throughout the EMEA region offering award-winning applications and services to its clients to give their businesses a competitive advantage.