The Future of Print Security: 7 Cyber Security Trends for 2022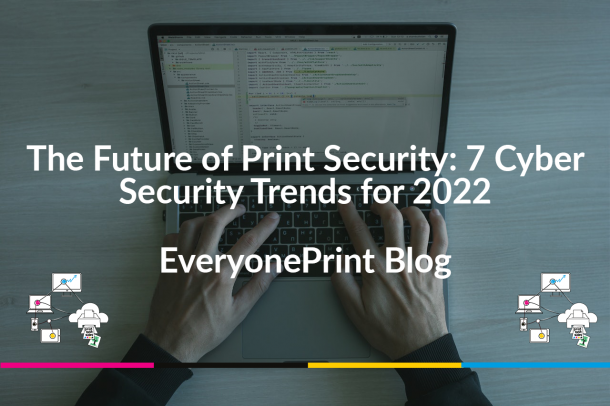 Addressing print security is a must in 2022. For companies to thrive in today's uncertain times, they must develop resilience. The digital revolution has brought a new high to data availability and scale of connectivity while accelerating decision-making everywhere.
With it, comes a promise of vast digital opportunity, but also significant risks. Without proper security, this transformation comes with the potential for large-scale failure and security risks, together with a waterfall of consequences if security threats are not properly addressed.
The rise of remote work has accelerated the digital revolution. Organisations must quickly adjust their work processes to account for the implications of hybrid working environments. While remote work initially seemed like a temporary reaction to the global pandemic, now it's here to stay.
There are many great advantages to remote work for both employee and employer, including decreased overhead costs and a better work-life balance. However, there are also concerns inherent to this more flexible approach to work, many relating to data breaches, document security, and printing systems presenting a serious vulnerability and point of attack for businesses.
In this article, we'll delve into the role of printing infrastructure in IT security and the cyber security trends defining 2022 as the popularity of remote work continues to grow. These trends were adapted from Gartner's public research and a market report created exclusively by Quocirca, which is available for download below.
Prediction #1. The Potential for Attacks on Print Infrastructures will Grow
All over the world, companies are attracting and retaining talent by offering the flexibility of remote work. Sometimes called an "Everywhere Enterprise Strategy", this approach to work ensures that workers aren't bound by proximity or physical space. All that is required is an internet connection and workspace.
While there are great advantages to a remote or hybrid work model, one considerable disadvantage is a widened attack surface.
Security training for employees remains a viable way to educate printer operators on print vulnerabilities and document security. However, it has become more difficult for IT teams to closely monitor print activity, document security, and endpoint security. The main reason for this is the increase in Bring Your Own Device (BYOD) policies that allow remote workers to engage their personal printers in work tasks.
This means that IT leaders have had to find creative ways to protect their companies from security breaches. This often involves the use of integrated secure print management services that allow devices to be managed across various locations. And while security measures such as requiring the use of identity cards can be helpful, it's hard to rely on a system that uses a personal ID when most of your workforce is remote.
Prediction #2. The Variety of Risks Affecting Print will Also Grow
Companies committed to secure print solutions have more than just a broader attack surface to worry about—the actual volume of threats has also increased. In fact, data breaches are becoming more common and more costly, with a staggering 60% of businesses reporting a printing data breach of some kind.
 Vulnerabilities like the log4j vulnerability and the Windows print spooler vulnerability also contribute to a dangerous environment and have IT managers on edge.
Many kinds of security risks can leverage print infrastructures as a back door for nefarious entry varying by industry. For example, in financial services, this could include things like forgery and counterfeiting. In the supply chain industry, it could include the interception or manipulation of data and classified documents.
No matter the specific consequences, the risks related to print are predicted to remain high for the 2022 forecast period, and IT professionals must remain on high alert and leverage state-of-the-art security features available for their print environment.
This brings us to the next cyber security trends prediction.
Prediction #3. Managed Print Service (MPS) will Become a Must
As we've established, the potential for data breaches to occur while printing is becoming increasingly high. The global security print market has worked diligently at establishing new solutions and security strategies that help protect company data and users alike.
It's easy to see why Managed Print Services (MPS) would help instill confidence. MPS includes a suite of services that work together to symbiotically manage print. At their best, MPS providers are also cyber security experts that offer a comprehensive view of print infrastructure operations, including intel critical data points such as who is using the device (and what for). 
The most essential —and often overlooked—element of MPS, though, is the ability to move over to cloud-first services like Hybrid Cloud Platform. Migrating your print infrastructure to the cloud will allow you to bypass issues associated with traditional on-site print equipment.
Learn more → 5 Major Considerations for Migrating from Server to Cloud
Prediction #4. Cloud-Native Platforms Ensure your Print Architecture is Resilient and Agile
The invention of cloud-native platforms is a game-changer in print security, offering unparalleled opportunities to mitigate big and small risks in a secure cloud setup. They work to rewrite everything that we understand about existing security models by leveraging best-in-class security features to secure users, protect data, and ensure compliance with the world's most strict security standards.
EveryonePrint's cloud environment has gone through a tremendous evolution during the past three years to achieve the prestigious ISO 27001 certification. With security built from the ground up, companies don't need to worry about an error in the fabric of a cloud-native print architecture. Everything has been designed with safety and protection in mind. This includes zero trust printing policies and end-to-end encryption.
Prediction #5. Data Loss will Continue and Become Costlier
Unfortunately, while an MPS is a great way to protect print jobs from data breaches, companies are not adopting this new method of print management fast enough. As a result, data losses continue to happen and have devastating effects.
As per the Quocirca Print Security Landscape 2022 Study, in the past 12 months, over two-thirds (68%) of organisations have experienced data losses due to unsecured printing practices. This has led to an average cost of a print-related data breach of €755K.
On this, small and medium-sized businesses are not immune. Some companies might believe that they don't need to worry about data breaches because of their small size, but this is ultimately untrue. Small and medium businesses that think they're too small to be targeted leave their surfaces open and vulnerable to hackers.
The impact of data loss is not limited to leaking classified and sensitive documents or proprietary information. It not only requires hours of expensive IT time but can also damage the trust of a client or customer base if personal information is involved. This is why many companies think of data loss mitigation as important brand protection. 
According to Quocirca, far fewer organisations that operate a standardised fleet of connected printers and MFPs (multifunctional printers) experienced a data loss in the last 12 months than those with a mixed fleet. Standardisation enables better control over data security, minimising the financial and reputational costs associated with a data breach.
Our full-featured single print driver can help standardise your fleet and manage multiple print devices (regardless of print manufacturer), domains, and networks. We also regularly organise PEN Tests every quarter to ensure that we're keeping up to date on the new ways that hackers could penetrate our environment from the outside. These tests indicate possible vulnerabilities so we can fix them before anyone else finds them.
Prediction #6. CISOs will Continue to Play an Indispensable Role in Security Management
The rise of remote work has made the need for a highly-skilled CISO and CIO more pronounced. As more and more businesses complete a migration to the cloud, both the CIO and CISO are key players in the quest for adequate print security. The CISO primarily will be relied on as the security expert who pays special attention to mitigating the many risks that printing poses.
CISOs will also play an essential role in helping teams navigate the ever-changing global security printing market, which often requires a liaison who can behave as a translator of sorts between work teams and industry jargon.
Prediction #7. Companies Need to Take a Layered, not Singular, Approach to Print Security
While adopting an MPS is a great way to negate the risks associated with printing, many organisations will find that they need to arm their print services from many different angles. Often called a "multi-layered approach" to print security, this involves adapting several different print solutions to protect against the risks associated with a hybrid work environment.
While adopting frequent reporting and analysis of print systems can be effective, many organisations who are serious about offering security features will have to go so far as to adopt a Zero-Trust approach to printing. 
At EveryonePrint, we are not only in compliance with the aforementioned ISO27001 certification but also with the Cloud Security Association (CAIQ). We operate under the Zero Trust principle using various authentication methods, end-to-end encryption, and much more.
Some of the most powerful lines of defense that would be at home in a multi-layered approach to print security could include secure pull printing, BYOD policies, regular in-depth risk assessments, and continuous management.
This concludes the cyber security trends in the print realm for 2022. Read on to find some frequently asked questions about print security.
How HCP Mitigates Print Security Risk
If a powerful line of defense seems like a hefty undertaking for your IT team, help is available to you. By relying on a cloud printing solution like Hybrid Cloud Platform (HCP), you can alleviate the burden on your IT teams and enjoy the peace of mind that comes with operating a well-protected print infrastructure. 
HCP provides constant monitoring of your print system, ensuring that your systems are always up-to-date, and your print documents and sensitive data are always protected. If you're in the process of optimising your print infrastructure to protect against the dangers of operating in a remote environment in the modern world, HCP is a great place to start. 
Even after the Y Soft acquisition of HCP, security remains front and center as the Y Soft brand is dedicated to protecting customer data in all that they do.
Want to assess the preparedness of your organisation? Feel free to reach out to us for a  free security testing.
FAQs on Print Security in 2022
Can you be Hacked Through your Printer?
Commercial and privately owned printers can get hacked both physically and remotely. With access through an unprotected Wifi connection, hackers and ransomware attackers can make unauthorised changes to settings that allow them inside the hardware where they can launch DOS (Denial of Service) attacks, upload malware, send malicious data, or install ransomware.
Printers have vulnerabilities that hackers can exploit. However, with MPS and proper software security systems, you can prevent attacks and keep your devices and data safe. 
Are Printers a Security Risk?
Printers can pose a security risk, however, it's by no means inevitable. As mentioned in the article, there is an extended attack surface with online printers, even more so with hybrid work and BYOD. With adequate print security hygiene and advanced protection measures (zero-trust, encryption, etc.), businesses' print infrastructure can become resilient and all out protected, for both data and users respectively.
Final Points
Printers' increasingly connected status means securing them should be a priority for any IT admin. Addressing the predictions above and setting your print infrastructure up for cyber security success is an inevitable process for any hybrid office not wanting to risk data leakage or print vulnerabilities crashing their print ecosystem, even temporarily.
We hope these critical cyber security trends and predictions will help you elevate and secure your print infrastructure and management strategy.
Written by – Amanda Cathrin Bäckström