What are Secure Cloud Services: 10 Ways to Maintain a Secure Cloud Print Environment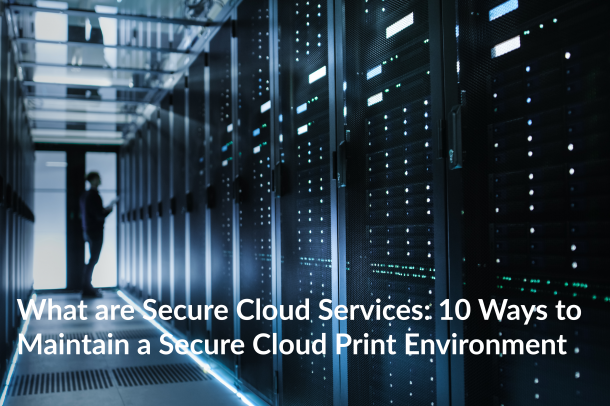 Secure cloud is no longer just an ask or demand– it's a given. Without security, there is no cloud. And with adequate print security in the cloud? Businesses of all sizes in industries ranging from IT to healthcare to government can sit back and enjoy a protected print setup working independently in the background.
Hybrid workforces and digital transformation in offices are two major reasons for the vast developments in cloud security. IT leaders and security teams are hungry for cloud solutions that relieve them from the unnecessary and manual workloads brought by traditional on-premises systems. These solutions give them global visibility and control of managing the cloud and monitoring security.
"As more large organizations move to the cloud, it is important to rethink how to approach security and find a path forward that embodies the principles of agility and speed. At EveryonePrint, we believe security must be integrated into the entire estate—from on-premises to cloud to micro-services—as well as into the application development and deployment pipeline.
The best way to achieve this is to understand the differences between traditional and cloud security requirements and to implement best practices via a robust yet simple-to-execute security policy."
– Morten Sørensen, CSO, EveryonePrint.
But what exactly does cloud security mean? And what are some security practices that help protect sensitive data?
Secure cloud printing is the ability to implement authentication, protection systems, firewall applications, and security features to cloud print software that mitigate the risk of breaches, vulnerabilities, cyber-attacks, and any other threat happening through printer hardware and software.
In the following sections, we'll point out 10 ways you can maintain a secure cloud ecosystem and accelerate your digital transformation to include print with minimal risk and no downtime. But first, let's clarify a few things:
What is Secure Cloud Printing?
Failing to take measures of protection when printing over the cloud can leave your business fragile to security breaches and hacks. This does not only mean in-the-moment check-ups, but planning for unknown threats and amping up your infrastructure's cloud resiliency.
Secure cloud printing is about safely deploying a cloud print ecosystem with systematic, mandatory security controls. Some examples of basic cloud security features are encryption, zero-trust networks, role-based access control, and public-key infrastructure (PKI).
The goal with secure cloud setups is to remove any on-premise infrastructure vulnerabilities or vulnerabilities detected from applications – here's an example from Java-based logging library: Apache Log4j.
More than that, cloud printing security is about consistently protecting confidential data about a company and its people. This is to offer complete peace of mind to everyone printing and make security monitoring easier for IT teams.
Secure Print Management Software Today
While it's sometimes still believed that an on-premises, traditional print infrastructure is the safest option in terms of user and data protection, that's not necessarily the truth.
There are security assurances to leverage with traditional means of print, but modern print management software can offer many more layers of security and protection than you probably think.
Here's how cloud print solutions amplify security with unparalleled opportunities to mitigate risk:
State-of-the-art encryption governs data
Configurable data encryption, in transit and at rest
Quickly recovers data with high cloud resiliency
Pull printing features ensure extra authentication
Trust-controls or zero-trust requirements are prevailing
Security health is constantly monitored by the cloud provider
Best-in-class users protection with identify verification
Excellent process compliance with data protection regulations
Strict logical separation of data ensures data stays with its owner
And that's on top of standardised means of protection like data centre security, and more. Find out how secure cloud print management software can be by going through these security resources based on our software, Hybrid Cloud Platform (HCP):
→ How HCP Protects your Data
→ How HCP Secures your Users
→ HCP Security and Compliance
Cloud Security Certifications & Requirements
To keep cloud software completely secure is no easy feat.
To prove a claim of cloud security excellence, we can rely on certifications and comply with renowned security principles. Those matter because third-party bodies (security experts) are checking and certifying that security standards are being followed adequately.
Also, security frameworks and principles guide how we build cyber-resilience into processes and cloud technology today. Take, for instance, Cyber Security Strategy's 'secure by design'.
To address and tackle the expanding threat landscape, we've made HCP software secure by design. With Hybrid Cloud Platform, we follow the principles of all the top-tier regulations and standards in the industry, namely:
These help us stay diligent with our cloud resiliency and plan for unknown threats to our software security. Dig into each compliance regulation and how we're working to make HCP the safest cloud print solution out there:
→ How HCP Complies with Data Protection Regulations & Security Standards
With strict governance, security monitoring, and protection efforts, cloud print enablers like EveryonePrint can bring your print infrastructure to entirely new heights in terms of security controls and resilience against cyber threats.
Instead of thinking of a regulation or cloud security certification as limitations, we leverage them to guide us towards the goal of offering a cloud print protection system like no other. 
Secure Printing with a Pull Printing Solution
Before jumping into the 10 ways to secure cloud, we want to start out with this featured section on pull printing. Pull printing makes it possible for organisations to print documents in a protected manner even on shared printers, thereby avoiding data leaking to unauthorised personnel.
Pull printing is a feature that allows users with various print infrastructures to achieve a second layer of protection with user authentication. Private, public, and hybrid cloud security all operate with data protection in the front lines, bringing in a second (and mandatory) authentication stage at the endpoint.
The pull print feature makes sure print jobs are not triggered directly, but stored securely until the user logs in and authenticates themselves by the printing device. Only when the authentication at the printer or multifunction device has been approved, does the output of the print job start.
In case you're new to pull printing, here's a rundown of the benefits to leverage from secure pull printing technology:
Significantly improved user security
Improved end-user productivity
Reduced office footprint with less print waste
More reliable print solution
To find out more, have a peek at this article about pull print security:
→ How To Keep Company Data Protected with Secure Pull Printing
10 Ways to Maintain a Secure Print Infrastructure
A potentially aggravating responsibility in IT is protecting company data. This pressure can send any IT lead running for the hills when considering moving to a cloud print infrastructure. We get it, we'd be scared of compromising the existing network's security too.
Cloud providers work tirelessly to ensure companies of all types and sizes can achieve a frictionless migration to the cloud – and cloud print providers are no different. With it, comes an obligation to address privacy and security regulations to make sure confidential company data is at no point compromised.
IT admins and executives must ensure cloud infrastructures are high on resilience to avoid data loss and quickly recover IT resources. With that, they're in need of cloud providers who can confidently foresee possible disruptions to technology and plan for business continuity.
Here's 10 ways you can maintain a strong, secure print environment that withstands vulnerabilities, protects data and users, and complies with regulations as well as security standards:
#1. Don't Skimp out on Basic Secure Cloud Print Hygiene
According to Don Baham, IT Security Leader at Accume Partners, businesses must ensure their basic cyber security hygiene is in place before looking into advanced security or next generation firewalls.
We're seeing customers challenge the industry on advanced security systems and protection programs. On that, our experience is that the best security setups are based on simple, secure print hygiene practices. This makes it easy to add advanced, long-term security protocols later.
Breaches are likely to happen both with and without advanced security systems. To make your cloud print infrastructure more secure, start with basic IT security hygiene and build advanced, protective layers on top of that.
#2. 
Use Authentication to Protect Print Users
Coming back to the authentication element mentioned earlier, by having features to ensure proof of identity in place, users can feel safer and more protected in the cloud. First thing's first – always make sure users are secured.
Whether you want simple pull printing where authentication is required before releasing print jobs, or you're looking for a more sophisticated solution, cloud printing software like Hybrid Cloud Platform (HCP) enables that for you.
Sophisticated solutions address all scenarios from single sign-on (SSO), to multi-factor authentication (MFA), through to role-based access control (RBAC) or zero trust.
HCP utilises a multi-tenant architecture and integrates with all leading cloud authentication providers such as Microsoft Azure AD, Okta, Google, and Ping and on-premises such as Active Directory & LDAP.
This gives customers ultimate flexibility when migrating print to the cloud – and offers them the broadest range of authentication available.
Curious about authentication for printing? Here's some resources for you:
→ Enjoy Safe and Secure Cloud Printing with Ping ID
→ Accelerate your Cloud Printing Journey with Flexible User Authentication
#3. Protect Data Consistently
Users need to be protected – and so does your company data. While you can leverage simple or complex security solutions, when choosing a cloud-based print platform, it is important to make sure that it ticks all of the boxes on robust security features to protect your data.
At EveryonePrint, we drive our ongoing efforts to set the standard for information security from three main principles:
Maintaining customer data availability
Maintaining customer data confidentiality
Maintaining customer data integrity
HCP software boasts a full set of integrated security features to help protect confidential information and control and manage print security policies.
On top of that, full data encryption (in transit and at rest) and built-in auditing helps you proactively protect information, manage risk, and achieve compliance with regulations including GDPR.
The cloud provider takes charge of the security in the cloud, including customer data, firewall and identity and access management, comprehensive incident management, major incident management, and more. And should you discover a data breach, you can always report it to your provider.
#4. Keep Data Sovereignty in Mind
One of the biggest cloud security challenges that companies need to keep in mind is hosting locations and data sovereignty. To maintain a secure print cloud that protects sensitive documentation, it's critical to keep all control over data access and encryption.
As organisations become increasingly global, issues surrounding data privacy become more complex. With businesses in one country and data centres in another, where does that data actually reside, who owns it, who manages the flow of information, and what regulations should it abide to?
Data privacy protection is becoming a vital demand from customers, and with that, it's more important than ever for companies to proactively safeguard their confidential user data – in every place where it's stored and shared.
In the cloud, verifying that data exists only where it's allowed can be difficult. It requires cloud providers to be honest and open about where their servers are hosted and adhere strictly to service level agreements (SLAs).
We host HCP on Amazon Web Services (AWS) in five different locations with three availability zones each to ensure high cloud availability – and we've got this all documented in our public SLA.
#5. 
Ensure Compliance with Data Protection Regulations
We touched on this earlier, back in the 'Cloud Security Certifications & Requirements' section. The idea is that there is no cloud without cloud protection. With streams of data being pulled to the cloud every minute, data protection regulations are something every cloud provider has to follow.
One regulation you've likely heard of is GDPR, General Data Protection Regulation, established by the EU. There are many other regulations and requirements that feed into the need to make digital transformation safe and well-governed. In the cloud sphere, one that's well worth mentioning is zero-trust.
The zero-trust security model is a framework that works on the notion that no device, application, or user should be trusted by default (unlike the castle-and-moat concept). With zero trust security, user access is re-authorised continually to ensure authenticity. The model works from 3 main principles:
Verify explicitly (authenticate and authorize)
Least privileged access, role-based access control (RBAC)
Assume breach (monitoring, encryption, lateral movement prevention)
Dig deeper into the Zero-Trust print approach right here: 
→ Protect your Data with a Zero-Trust Printing Approach 
#6. Leverage Cloud-Native Security
Many businesses overlook a very necessary part of security with applications and technology. Some threats and vulnerabilities happen on the infrastructural level and need their own protection.
In today's technologically advanced world this is the increased threat surface that organisations need to be aware of when making a transition to the cloud.
Cloud native security is a security system built into the assets you're working to secure, i.e., a program that is designed for a cloud computing architecture.
Part of maintaining a secure print setup in the cloud is leveraging cloud originated protection on your devices and applications, as a second layer to the external security systems you choose to integrate.
Here are some examples of security procedures you can expect from a cloud printing provider like EveryonePrint:
Failover and capacity management
Backup facility
Staging environments
Monitoring and response procedures
Incident management
Penetration testing
Secure development life cycle, SDLC 
#7. Consider Hybrid Cloud Security
An essential part of setting up secure print in the cloud is considering how you'll manage the landscape. With many businesses opting for a multi-cloud environment, there's additional security measures to keep in mind, and more bottom-line requirements to follow.
Here's what Morten Sørensen has to say about security and moving to the cloud:
"With massive investments in on-premises infrastructure, it's not an easy change. The result is often a hybrid or multi-cloud environment with inherent part of the new computing reality. A consequence is that you end up having a complex and fragmented environment that is difficult to manage. Making strategic decisions —involving security, you must consider how to manage the hybrid landscape."
When we talk about hybrid cloud security, we're talking about the protection of user and company data, applications, and infrastructure. All these are associated with an IT architecture that integrates some workload portability, orchestration, and management to some scale across multiple IT environments where are least one is in the cloud– public or private.
#8. 
Implement Security Tools for Comprehensive Protection
In a post-pandemic world of increased cloud-based and remote work, several tools and techniques are essential for companies to amplify their security. Here are some of them:
Zero Trust Security
Hybrid Cloud Security
Computer-Generated Cloud-Data Analysis
CPI (Continuous Process Improvement) models
Cloud Infrastructure Entitlement Management (CIEM)
Cloud Workload Protection Platforms (CWPP)
#9. Consider the Global IT Security Picture
Every IT department has their own unique IT system setup. With modernisation happening constantly in new areas of IT, your best measure of success is found in your ability to keep your security on all platforms and systems cohesive.
At the very least, make sure to consider the global IT security picture when integrating new systems or software, or modernising existing processes.
Here's Morten Sørensen's take on that:
"At a high level, I believe that security must be integrated into the overall IT landscape for your best measure of success, no matter if you're deploying a new application on-premises, in the private or public cloud. Security can't be an afterthought or an add-on; it must be tightly bound up with everyday processes and efforts."
To ensure global IT security, upcoming trends in the security sphere need to be considered. Have a peek through the top 7 trends that guide cyber security today:
→ Print Security Trends Report [Download]
 #10. 
Make Sure Security is Fully Operationalised
To bring the security topic full circle, remember that it's not enough to say that you use a web service. While AWS, GCP (Google Cloud), and Azure have all released excellent security capabilities on top of their cloud offerings, many companies never fully operationalise these.
What's important to know is how your print infrastructure is configured, what policies you're adopting, and which tools you're adopting for a secure cloud system.
To make sure you maintain a secure cloud print infrastructure, dig deeper than the tech itself when you're talking to potential cloud providers. Do they have the people and processes needed to extract detection and response capabilities from the technology stack? What expertise do they offer to support your IT?
Once you've found the right cloud provider and switched your on-premises print management infrastructure to a cloud architecture, allow them to properly implement security systems. Then, let them tune it for your environment so it is easy for them to identify exceptions to normal network or user behaviours.
We want you to get off to a great start with a secure cloud print infrastructure that makes life easier for everyone printing. To get your printing fully operationalised and set up for cloud success, here's some considerations to make:
→ Top 5 Considerations when Migrating from Server to Cloud 
FAQs on Secure Cloud Printing
How Important is Printer Security?
Just thinking of the type of user and company data that can be accessed through security breaches (documents, domain credentials, user info, etc.), it's safe to say proper printer security systems are essential.
According to Infosec, 50% of respondents on a security survey they conducted have suffered some kind of printer-related data loss. Examples include printer accounting bypass, unauthorised configuration changes, and ransomware. 
With the average cost of a print related data breach being £632K, there's no doubt that printer security is vital. 
What are Some of the Security Risks of Having Cloud Printing?
Just like any in-house cloud technology adopted, printers can be breached by hackers intercepting transmissions, which can give them access to your entire IT network. This increases security risks that can compromise confidential data or user information (like credentials) if security protocols and protection systems are not properly set up and adhered to. 
Final Points
Is internal data and user protection top of your priority list? Are you just getting started or far along enough to look into advanced security systems and practices?
Regardless of where in the security journey you are, vast protection can be leveraged with a secure cloud IT environment. If you made it through this security-focused compilation for protection in the cloud, you're well-equipped and ready to dive even deeper.
How? Look through our webinar on how cloud printing provides unparalleled opportunities to mitigate risk.
The digital revolution has brought a new high to data availability. With it, comes a promise of vast digital opportunity, but also significant risks. Without proper security, this transformation comes with the potential for large-scale failure and security breaches, together with a waterfall of consequences.
As a reaction, supercharge your cloud and cyber security with the tips and insights provided in the webinar. The webinar covers:
Security—a culture, not a feature

Why moving print to the cloud enhances your security aspirations

The three pillars of evaluating your future SaaS partner

How to leverage HCP to amp up your print security