What is Cloud Print: 7 Things to Know About a Cloud-First Approach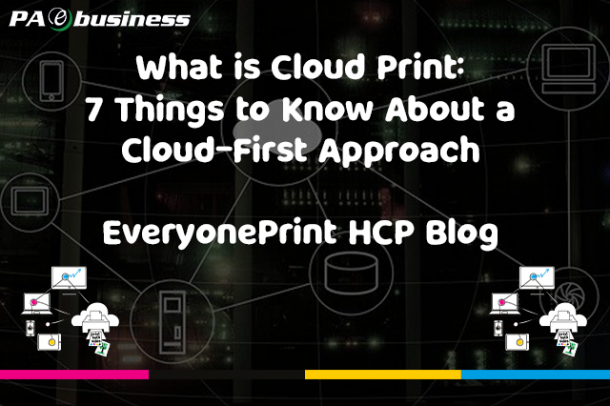 These days, it seems like the term "cloud computing" is everywhere. And at the most basic level, it's a concept that is easy enough to understand.
With cloud computing, you store and access data and programs over the internet instead of your computer's hard drive. This is in contrast to local storage and computing when you store data or run programs from a hard drive.
There are many advantages to a cloud-based approach. Not only does the cloud drive agility and efficiency across the business and IT departments, but it also serves as a way to stay organised while cutting back on costs and improving accessibility.
But how exactly can cloud services translate over to the printing landscape? In this article, we'll explain how cloud computing services can lend themselves well to the world of printing infrastructures.
What is the cloud?
The cloud is anything that you can access over the internet. When we say that something is 'in the cloud,' we're not saying that it is mysteriously floating around in the ether—instead, we're saying that it's possible to access it remotely (i.e., you don't have to be physically near the hard drive).
Though the word 'cloud' is often used as a blanket term, there are four types of cloud: public clouds, hybrid clouds, private clouds, and multiclouds. The kind of cloud storage that you use will depend on your needs and security levels.
The lines between local computing and cloud computing sometimes can get blurry because the cloud is part of almost everything on our computers these days. You can easily have a local piece of software (for instance, Microsoft Office) that offers a set of web-based apps (Office for the Web accessed via your web browser without installing anything). That makes them both a local application and a version of cloud computing ('web-based' is the same thing as saying 'in the cloud').
The prime example of a device that is completely cloud-centric is the Chromebook. These laptops have just enough local storage and power to run Chrome OS, turning the Google Chrome web browser into an operating system.
What is cloud printing?
'That's all great,' you may be thinking to yourself, 'but how exactly is it possible to print through the cloud? How can we do cloud printing if you need to be near a printer to complete the job?'
In traditional printing, print servers work by sending a message from the computer to the printer. They may either connect the printer and the computer with a network connection, wired or wireless.
In cloud printing, a message is sent from the computer (or other devices) to the printer through a third-party data center that acts as the cloud.
The most popular way to take advantage of cloud printing used to be through Google Cloud Print. Unfortunately, both Google Cloud Print Beta and Google Cloud Print were discontinued in early 2021.
Fortunately, many other Software as a Service companies have come in to fill the gap. And though we may be biased, we have to say that EveryonePrint's HCP service gives all market options a friendly run for their money.
What is a cloud printing solution?
Cloud printing is a type of technology that allows printers to communicate with this aforementioned "cloud." Printers can't complete jobs through the cloud on their own, so they need to rely on some kind of third-par
How does cloud printing work? 
Cloud-based printing uses the power of a multi-tenanted environment to provide quick, seamless printing solutions to an entire organisation. Cloud printing replaces the need to purchase and maintain servers for the sole purpose of printing. It also eliminates the time and costs associated with managing and patching the server, print drivers, and queues.
With cloud printing services, an administration portal offers an overview of all configurations, printers & queues, and security and access control rights and authentication providers.
HCP allows administrators to automate the deployment process of printing within the organization, configuring just a PC Client to deploy to end-user computers / mobile devices.
What are the main advantages to cloud printing? 
Optimize print infrastructure—by relying on a Software as a Service (SaaS) or Infrastructure as a Service (IaaS) company, you not only benefit from the cloud but also have the option of managing your services from afar
IT helpdesk requests will be significantly reduced, as print problems often clog up the system
Eliminate all needs for physical print servers, freeing up space and your electronic waste footprint
Meet high security and compliance standards and benefit from the safety that the cloud provides, and benefit from quick disaster recovery
Cloud services are compatible with every major operating system
Print becomes a scalable service that can be expanded or reduced depending on your needs
Are there any disadvantages to cloud printing? 
Crash potential. When there are problems with a giant cloud host like Amazon Web Services or Microsoft Azure, companies that offer their services through these clouds are affected. The problems typically last for only hours, but that's not much consolation at the time.
Who can benefit from cloud print services? 
When we think about who can benefit the most from a cloud-based print set-up, the most common image that comes to mind is a stressed-out in-house IT team—and this is true. Here's why cloud print is an excellent solution for IT teams and the benefits it can offer other groups as well:
IT Teams
Reduces IT admin workload by eliminating the need to maintain print servers and print queues
Reduces helpdesk requests because users have access to an automated print deployment
CTO/Technology Owners 
Consume print as a service rather than an overhead.
Demonstrates HCP as an enterprise-ready platform
Managed Print Providers
Assist organisations with their cloud
End Users
Single drivers and single queues simplify user's complexity and usage
Direct print queues to users, utilizing location-aware printing.
Users can print to any device – don't even think about it.
User self-service for card enrolment, pin codes, and favourite printer settings
Blog written by: Mark Milaszkiewicz – EveryonePrint